2016 LRS Biker Bucket List
It's a new year and lets face it, I'm not going to drop 20 pounds nor am I going to run a marathon, and well that money I was saving for my kids education is most likely going to be spent on a new bike.  Life is a funny and fickle thing but what always stands true is that we do what we enjoy, so setting goals for things you don't enjoy doing just doesn't make much sense at the moment.
        Rather than make resolutions this year we at LRS have decided to make a Biker Bucket list... Its things to do before we or the end of the year expires (whichever comes first).
CLICK HERE TO MAKE YOUR OWN LIST AND ENTER TO WIN A FREE LRS WINDSHIELD
RIDE EUROPE - OR AT-LEAST DREAM ABOUT IT
Just about all of us have thought about it, the thought of experiencing Europe on a Harley, its the ability to see so many cultures along the way, the possibilities of seeing where our fathers fought and died. Bikers like nothing more than history and and a good destination.
But lets face it this is a long shot. The costs of doing this are staggering, so this would require massive amounts of planning to pull off.

CRAB POT RUN  -
This is that one ride that my buddies keep saying "were gonna do it"  But we never end up having the time. The idea is to ride from home up to the California - Oregon coast and spend a couple of days riding through the redwoods and fishing for crab along the docks.  I have done the PCH a couple of times, but this time Id like to get off into the back roads and spend some time relaxing and hanging out with the crew.
RE-MODEL THE BIKE
Our shop foreman has been working with us to develop his 09' street glide into a bad-ass machine, if it can be customized he is doing it. The guy is amazing, as a machinist he can do just about anything he wants and its fun to see him build the bike in a way that really shows his style.
Check our our post on HD forums to see his build and what we are doing to help him.
RIDE THROUGH EVERY TUNNEL IN A 300  MILE RADIUS:
There are two Pavlovian biker desires, one is turning the throttle and the other is driving through a tunnel .... while turning the throttle. The noise is nothing short of stellar. In many ways one might say that the rumble through a tunnel is as comforting as the satisfaction of  a 7 course feast. One of our goals is to map our every tunnel in a 300 mile radius and drive through them with the pipes a-roar-in and the throttle wide open.
RIDE AWAY FROM STURGIS:
So the last few trips to Sturgis have been epic in their own ways, but as time ebbs by I find myself less and less fond of the crowds and the traffic, the endless discontent of the un-enjoyable trip that started out with so much promise. This year I'm going away from Sturgis. I'm still going to plan an epic trip, I'm still going to ride the distance... but this year I want something new, something uncharted and something as far the hell away from the crowds of BIKER MECCA as possible.
DO SOMETHING GOOD AS A BIKER -
As a biker and an american I find myself needing to contribute to something greater than myself. I am inspired by groups and organizations like the Patriot Guard Riders and others who ride for a reason. I would like to find a higher reason to ride this year.
BUILD A POST APOCALYPTIC BIKE  -
After seeing MAD MAX : Fury road this year I hold firmly resolute to make a bike or an outfit fitting of the end of days. I've seen plenty of pictures on the web that make me want to become a prepper and live on the fringes of society. It looks like a fun thing to do with a motorcycle that has seen better days. Hell who wouldn't want a bike capable of yielding a front load of clay-mores and a mid mounted 50 cal.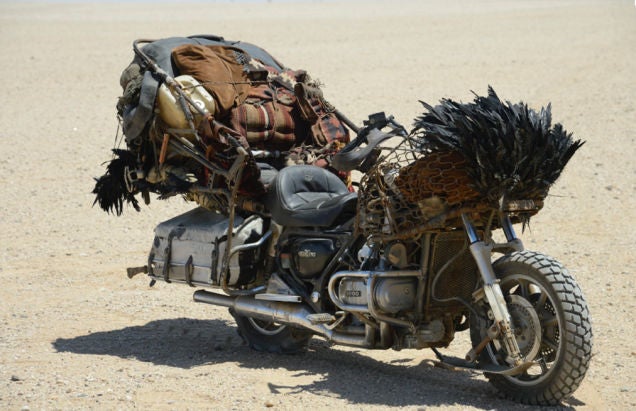 ---